However, evidence shows that traders are committed to maintaining their leveraged long positions in these uncertain times and that the future for bitcoin's price is optimistic.
Bitcoin experienced a massive sell-off on March 12 that plunged its price to a low of $3600 within eight hours. The coin's free-fall was led by a 9.9% decline in the Dow Jones Industrial Average on the same day, which hints at the fact that bitcoin is not an uncorrelated safe haven from traditional markets.
However, despite experiencing the largest sell-off in the last seven years, bitcoin is already showing strong signs of recovery. Bitcoin climbed 6.62% over the last 24 hours and traders seem intent on letting those gains continue.
On Bitmex, the world's largest cryptocurrency exchange by trading volume, bitcoin longs hold a dominant majority of 63.33%. Ethereum, which is highly correlated to the price of bitcoin, was also favoured among traders. Its longs have an overwhelming majority of 92.27%.
In addition, both whales and regular traders agree that bitcoin's trajectory will be to the upside, with 69% of traders announcing their long positions in Bitmex's trollbox. These long positions mean that the sentiment among traders is generally positive, which can be seen as a leading indicator for future price gains.
Adding to further buying opportunities, bitcoin remains in a heavily oversold territory on the daily charts. The Relative Strength Index (RSI) gives a reading of 25.44, which is well below the threshold of 30 to be considered oversold. Strong hands and opportunistic investors could see the price dip as an incentive to buy the coin cheaply, which would increase its value further.
The price dip has also stimulated a surge in volume for the coin. Before the price dip on March 12, bitcoin's daily volume averaged $40 billion dollars. After the dip took place, bitcoin's average volume surged to $77 billion. Notably, the largest volume spikes occurred when bitcoin increased in value, which shows strong motivation among buyers.
On the four-hourly chart, the combination of price and volume increases has moved the On Balance Volume (OBV) indicator to the upside, meaning that volume and price are converging and this confirms bitcoin's upward price movement.
In addition, momentum could change in the bull's favour over the short-term as seen on the MACD. On the 4-hourly chart, the MACD line looks close to crossing over the signal line, which would be a buy signal. The MACD histogram is also close to moving into positive territory.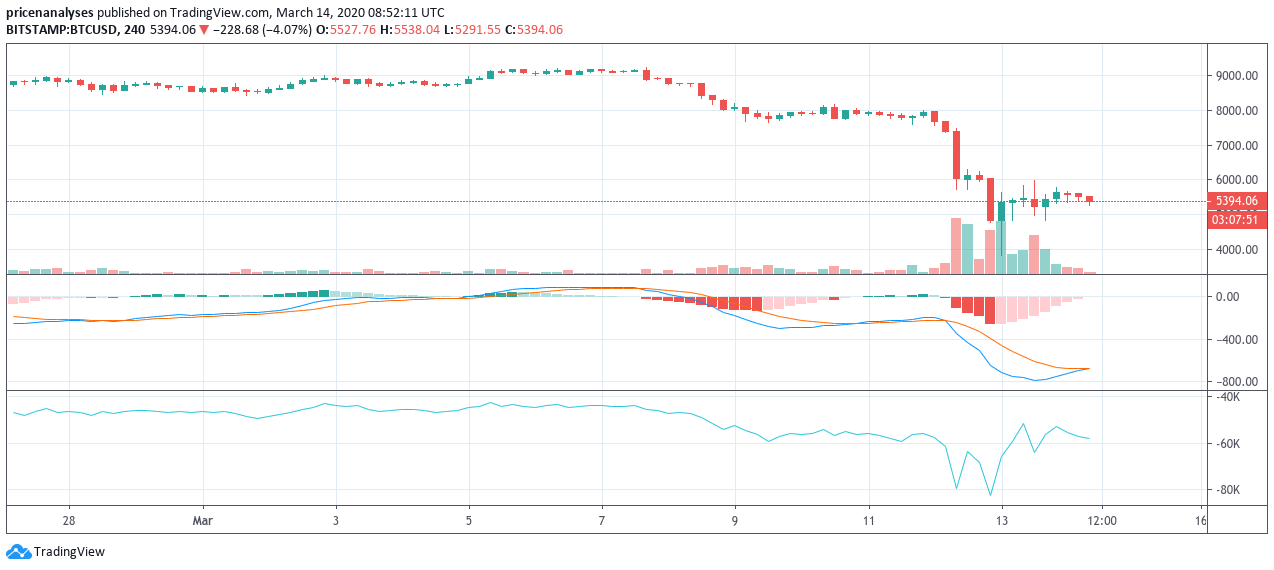 An interesting thing to note is that within the last 24 hours, the number of shorts has increased by 18%. This could actually be good news for bitcoin bulls, because if the price continues to rise, this may initiate a short squeeze that will propel bitcoin's price further.
However, in order for bitcoin to be confirmed in a renewed uptrend, the coin must first test its first resistance point at $6,281.78. This resistance point will be close to its 38.2% retracement from its 4 week low. The second resistance point is at $7,143.72, which will put the coin closer to its original performance before the sell-off. At present, the coin is sitting comfortably above its first support level at $4,241.58.
To allay some fears, bitcoin's dip is unlikely to start a renewed bear cycle but is rather a knee-jerk reaction from the markets crashing, fuelled by the coronavirus hysteria. Accelerating the coin's descent was $1 billion worth of longs being liquidated on Bitfinex on March 12 and $800 million worth of longs liquidated the following day.
In short, unless the markets drop sharply again as they did on March 12, bitcoin could be on track to recuperate its losses and resume the gains it has made over the last several months.